Stress at work, routine, daily life problems and struggles… Each day more and more people search for an oasis of relaxation in their vacation, a place where they can forget all worries.
It's important to look after yourself, pamper yourself, and feel good about yourself. That's why we would like to suggest a way to improve your health and reduce stress: thalassotherapy in Gran Canaria.
Are you familiar with the many benefits of thalassotherapy?
Benefits of thalassotherapy
Thalassotherapy comes from the Greek word thalassa (the sea) and therapeia (a treatment or cure). Therefore, its meaning is: the therapeutic use of seawater and other sea products in order to leave you feeling relaxed and invigorated; it brings internal and external wellness.
Haven't you wondered, every now and then, how relaxed you'd be if you took a walk by the beach, your feet caressed by the gentle waves? That's the sensation produced by the sea, it brings about antiseptic properties and a therapeutic effect. Sea water is composed of iodine, potassium, zinc and other nutrients, all beneficial to human health. Thalassotherapy makes the most of saltwater to provide adequate treatment and care.
Among the many benefits of thalassotherapy we would like to highlight these:
Speeds up muscle recovery.
Improves blood circulation by dilating blood vessels. Helps reduce blood pressure.
Acts as an excellent muscle relaxant.
Helps alleviate breathing issues.
There are plenty of psychological benefits that help reduce anxiety, stress, insomnia, etc.
Balances the wellness of the skin, and delays the ageing process.
Thalassotherapy in Gran Canaria
Now that you are familiar with some of the body and mind benefits of thalassotherapy, we would like to recommend to you one of the best thalassotherapy circuits right here in the south of Gran Canaria: Lopesan Villa del Conde.
Let us detail each and every service included in the sessions.
 Om ThalassotherapyThalasso Villa del Conde
Thalassotherapy at Villa del Conde has no equal in Gran Canaria, it's located just by the sea, under the Meloneras promenade.
The views to the ocean are stunning. The facilities are ample and modern, with a wide offer of beauty and wellness treatments and an exclusive area: the Ocean View Suites, which include private access seawater pools and solarium terrace.
You must treat yourself to this experience at the best thalassotherapy hotel in Gran Canaria.

Thalasso Experience Circuit Villa del Conde
This experience takes place in a spectacular hydrotherapy seawater pool. Among the many services included we would like to highlight a perfumed steam bath, a multisensory shower, salt inhalations and light and sound pool sessions.
In addition to this, the seawater hydrotherapy session is perfect for couples, the environment is carefully set with candles and fragrances.
Private Jacuzzi with an ocean view
Looking for privacy? You can book a private jacuzzi alone or in company. You can dip in a saltwater pool and rest on a bed with a view to the Atlantic Ocean. And there's always the pleasure of a relaxing tea infusion ready for you.
Om Treatments Thalasso Villa del Conde
Thalassotherapy at Villa del Conde provides exterior cabins located a few metres from the sea, arranged so you can receive treatment alone or in company. A true oasis of luxury and wellness.
Among all the treatments available at Om Thalasso Villa del Conde, there are a few you just can't miss trying out: body treatments that are nourishing, exfoliating and remodelling. Marine natural elements are thoughtfully applied by expert hands; elements such as salts, algae and mud, all carefully selected to cleanse, soothe and revitalise the skin.
We also recommend you to ask about the facial treatments designed to enhance the natural beauty of your features.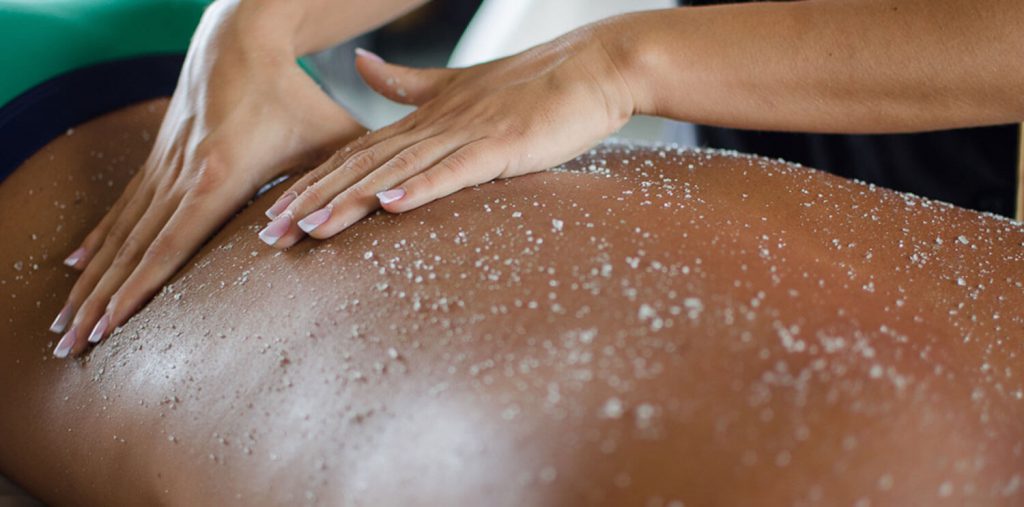 A few recommendations before you experience thalassotherapy in Gran Canaria
Thalassotherapy at Villa del Conde is a wonderful experience to have at least once during your vacation, an experience you owe to yourself. Nevertheless, and just like with any other spa and massage related treatment, you should take a few things into consideration before booking your treatment sessions:
Always book in advance.
Remember to drink frequently enough to remain hydrated. And always follow the instructions given by the thalassotherapy staff.
For your own safety, if you suffer from any kind of skin condition you must inform the therapist in advance.
If at any moment during the treatment you feel uncomfortable, please immediately tell the thalassotherapy staff. Our only goal is your well-being.
The most important thing to do: Relax. Close your eyes, breathe deeply and let thalassotherapy bring you comfort and satisfaction.
After a thalassotherapy session in Gran Canaria you will feel like a different person. The treatment circuits will provide you with an incredibly soothing experience. This therapy will reward you with a mind and body balance that is sure to fill you up with energy.
And remember, if you wish to enjoy all the things a high-quality thalassotherapy hotel has to offer in Gran Canaria, simply book now your five-star lodging at Hotel Lopesan Villa del Conde Resort & Thalasso.