Some of the most paradisiacal and incredible beaches in the world are located at the East of the Dominican Republic. Lopesan Hotel Group invites you to discover these beaches of white sand and turquoise waters in this post about the best beaches in Punta Cana. Do you want to join us?
If you haven't decided on a destination for your next days of rest yet, we strongly recommend you to choose one of the best beaches in Punta Cana. If you need to make a stop in your schedule to disconnect in a dreamy environment, there is no doubt that here you will find the best temperatures on the planet, together with the select environment of extraordinary luxury resorts.
Why should you choose Punta Cana for your next holidays?
Because if you are looking for the perfect destination to enjoy the sun, the sea and the beach, together with the possibility of doing all kinds of nautical activities, excursions and entertainment, you will have the chance to enjoy this experience in the best beaches of Punta Cana.
Thanks to its amazing weather during the whole year, you can plan a perfect getaway to the Caribbean at any time!
It is true that the dry season — from May to October — is the time when there is a greater influx of visitors. However, this does not have to be a problem if you make your reservation in time at our exclusive resort in Playa Bávaro.
Organize your agenda to live a few unforgettable days. You just have to choose one of the most incredible and best beaches of Punta Cana!
Bavaro Beach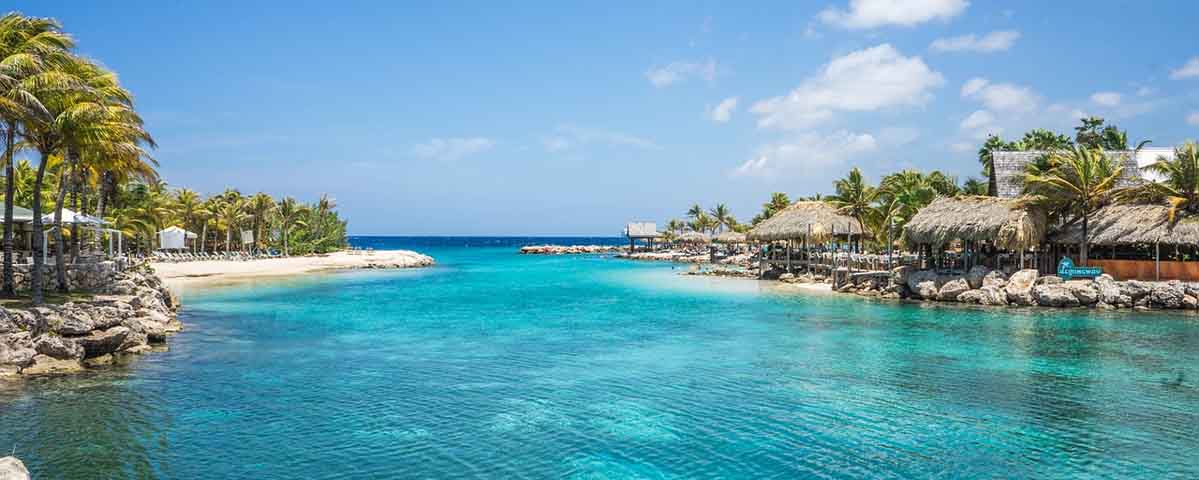 This is the most famous beach in Punta Cana, and it offers kilometres of impressive tropical landscape dominated by the characteristic vegetation of coconut trees, together with fine white sand surrounded by the turquoise colour of a sea protected by its spectacular barrier of coral.
The indescribable beauty of Bavaro Beach has not escaped the exquisite look of fashion designers, artists and sportsmen of recognized international fame. All of them have chosen this place to build their fantastic recreational mansions in this exclusive place of the Caribbean, located next to magnificent resorts and exclusive malls.
We recommend you to choose this incomparable spot, the best beach of Punta Cana, where you will give free rein to all your senses while you enjoy a luxury accommodation with the best services and international cuisine for all tastes at several catering spots and cocktail bars.
Enjoy the comfort of hammocks and sun beds located right next to the beautiful pools that merge with the Caribbean in a direct connection to the beach.
From here, you will also have the chance to visit the historic capital of Santo Domingo, and make interesting boat trips to the island of Savona, or Catalina Island. Moreover, you can enjoy exciting thrill rides in quads, or an incredible encounter experience with sharks — which will increase your adrenaline for sure.
Choose an all-inclusive hotel in which you will find everything you can imagine and more to achieve a perfect rest. You will feel revitalized when you come back from your fantastic holidays.
Punta Cana Beach
This is another of the best beaches in Punta Cana, in which you will have the chance to enjoy all the beauty of this Caribbean coast. Punta Cana Beach is also located in a residential area next to hotel complexes and its shopping area full of entertainment facilities.
At Punta Cana Beach you can also practice all kind of water-sports such as kayaking, windsurfing or snorkeling. Moreover, you will also have the chance to discover the most interesting spots in the island.
Macao Beach
This beautiful beach located at the north area is one of the best beaches in Punta Cana to practice surf due to its huge waves. It is a very attractive key point for those who love this sport. This beach will also give you the chance to enjoy an amazing panoramic view while you drive one of the typical buggies.
Nevertheless, you won't find any hotel at this public beach, neither any exclusive service — but you will find the typical beach bars and some restaurants in case you want to have a drink or have some food.
If you want to enjoy a horse ride along the beach, this is the perfect place to enjoy and unforgettable experience.
Uvero Alto Beach
This one is probably the most calmed among the best beaches in Punta Cana. This is due to it is more distant, located at the north of the coast — so it is less crowded than the others. There is also a little hotel complex situated at this beach.
El Cortecito Beach
Continuing our ranking of the best beaches in Punta Cana, we chose in fifth place this beach that has a small local population of fishing tradition, and in which there is also a set of tourist accommodation.
It is usually a very busy beach due to the tranquility of its shallow waters, in which you can swim safely. You will find some local craft shops while you stroll along this lively beach, and you can also enjoy the most typical tropical drinks.
Cabeza de Toro Beach
Cabeza de Toro — among the best beaches in Punta Cana — is well known for being the place where dawn begins on the island. You can also find a great and wide variety of sports in this heavenly place surrounded by coconut trees, turquoise waters and white sand. There is also an interesting offer to hire catamaran tours or rent jet skis at this spot.
Arena Gorda Beach
Located next to Bavaro Beach, this is another of the best beaches in Punta Cana. It has miles of white sand, but with the particularity of waters dominated by a greater swell. This beautiful beach also has some of the most popular and select nightspots in the area.
Saona Islan Beach
Finally, we cannot forget Saona Island, which impressive beaches deserve to be visited. This island is approximately an hour away from Punta Cana by boat, and its coastal lagoons are surrounded by spectacular coral reefs.
You cannot miss neither its interesting archaeological sites in an excursion to this island where you can also find some of the best beaches in Punta Cana.
We are waiting for you at Lopesan Hotel Group — so you just have to visit our website and make your reservation with us if you want to discover and live all the magic of the Caribbean.