Among the many natural wonders that you can find in the fortunate islands, Gran Canaria Beaches are an authentic paradise for sun and wave lovers.
So we invite you to visit immense stretches of golden sand, rocky coves of black volcanic earth, and natural pools that have at the coast of our island, along with great offers of accommodation in Gran Canaria.
Although it is difficult to decide which the best beaches of Gran Canaria are, Lopesan have them all. Depending on whether you are looking for amplitude, hidden corners, hustle, exclusivity, ease of access or adventure, Lopesan Hotel Group has made a selection including those that enjoy a well-deserved reputation internationally along with others with their peculiar charms.
You decide which ones you want to during your next holidays with us!
Las Canteras Beach
Las Canteras beach is an incredible beach of several kilometres, surrounded by a long promenade where you can find all the entertainment, take a walk, drink something in one of its many terraces, in addition to practicing many sports, together with all the services that you may need.
At the end of this great expanse of golden sand is located the auditorium that proudly bears the name of Alfredo Kraus, illustrious tenor born in this land.
Las Canteras beach is famous for its good weather, and its calm and crystalline waters protected by a long natural barrier of volcanic rock, which contains the brave oceanic waves. It is also famous for being the relief that nature provides to the capital of Gran Canaria.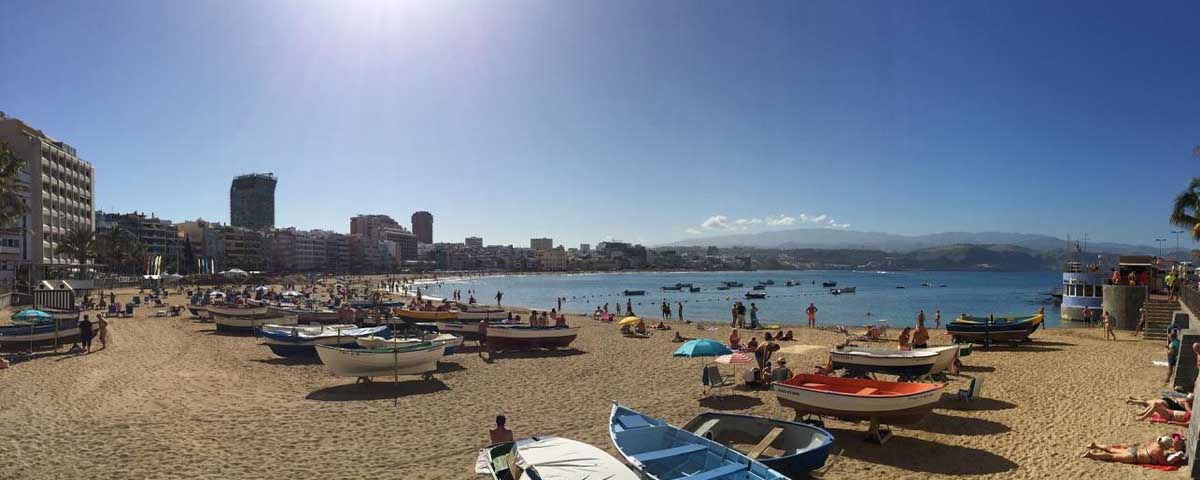 The hotel in Gran Canaria is here
Maspalomas Beach
There is no doubt that this is a unique experience for all the senses that you cannot miss during your holidays in Gran Canaria, with its rolling dunes of golden sand and an oceanic backdrop. Strolling around here offers different sensations in broad daylight, or in the late afternoon with its spectacular sunsets.
An immense nature reserve located at the southern tip of the island, which offers space for all tastes with an extensive family area, nudist spots, and perfect places for sports such as surfing, and a great accommodation offer in the south of Gran Canaria.
Next to this impressive natural park, and between Maspalomas Beach and Meloneras are the most exclusive points of Gran Canaria, among luxury villas, golf courses and spectacular hotel complexes such as Lopesan Baobab Resort, Lopesan Costa Meloneras Resort & Spa, Lopesan Villa del Conde Resort & Thalasso.
If you choose to stay in this incomparable and peaceful area, that will allow you to live the perfect holiday in the most select environment with all the comforts, impressive facilities, personal care services, and a wide range of sports and leisure without giving up to discover about other of the best Gran Canaria beaches and corners of the island.
Gran Canaria for have adventures
Playa del Ingles
Continuing to the southeast from Maspalomas Dunes, you will find another great beach of fine and clear sand stretches along its more than three kilometres. People from all countries choose this destination year after year to enjoy its warm climate and its lively activity at all hours of the day and night.
This beach, which is one of the best Gran Canaria beaches apart from being famous, also counts on different areas for sports, familiar areas, and other areas reserved for nudism.
Playa del Ingles also has an extensive promenade, where you can find a lively nightlife, restaurants and bars, along with other services needed to spend a great day at the beach.
If you like this destination, check out the best offers of all inclusive hotels in Gran Canaria such as those offered by Abora Catarina by Lopesan Hotels. Here you can enjoy spacious and beautiful rooms, restaurants, swimming pools and much more at the waterfront!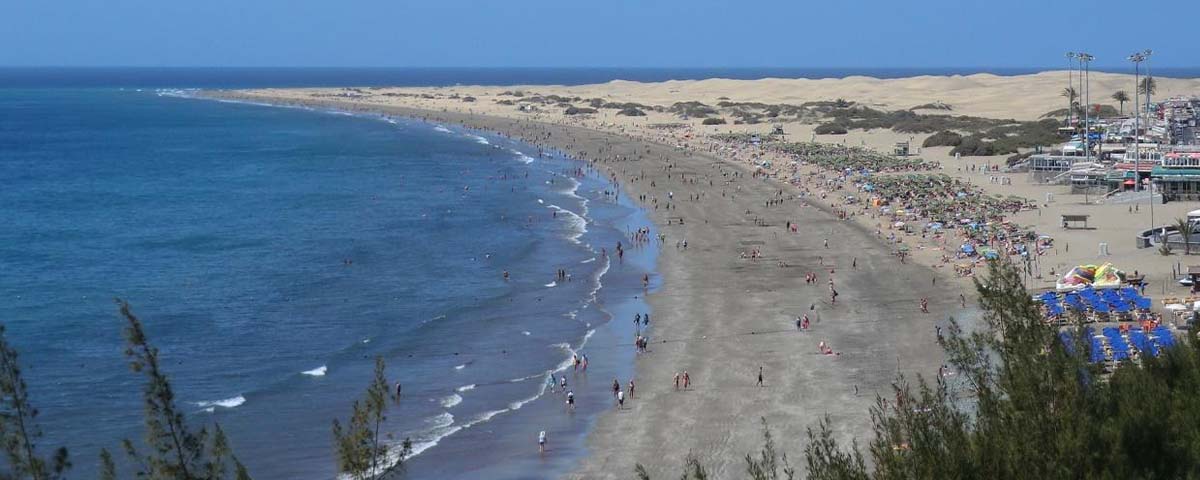 Amadores Beach
Amadores beach is another one of the best beaches of Gran Canaria is also located at the south of the island. It is situated between the towns of Puerto Rico and Puerto de Mogan. This beach apparently owes its name to the sweet sensations that it awakens in many couples with its spectacular sunsets.
Amadores beach has a perfect extension of white and fine sand in which you will surely want to spend the whole day. There, you won't have to worry about eating or having a drink, because there are plenty of bars and restaurants at the promenade.
San Agustin Beach
San Agustin is one of the best beaches of Gran Canaria to enjoy the sun or swimming without much crowding. Here, you can enjoy a very quiet family atmosphere where tourists from many places of the world look for a warm place in which the good weather is guaranteed throughout the year.
A quiet beach surrounded by fantastic hotels in Gran Canaria, where you will find all the relaxation and entertainment. So if you are interested in this option, take a look at Corallium Beach by Lopesan Hotels and check what our offers in San Agustin by the beach, from which to enjoy great views of the ocean and the Maspalomas Dunes.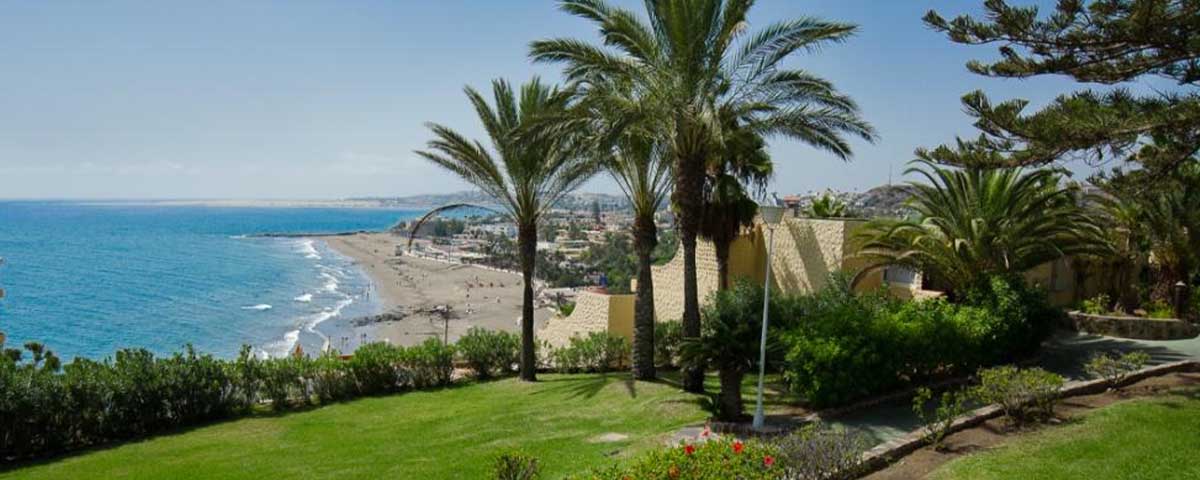 Mogan Beach
Next to Puerto de Mogan – a town known as the Venice of the Canary Islands — is located this small, quiet and sheltered beach surrounded by sets of picturesque houses between water channels, and its lively springs with all kinds of shops, restaurants, and terraces.
From one of the best tourist areas of Gran Canaria you can embark for a beautiful boat trip along the coast, or going deep into the sea to see cetaceans, as well as diving or practicing deep-sea fishing among many other things.
So you have to visit this beautiful town, where you will find one of the best beaches of Gran Canaria to spend a great day.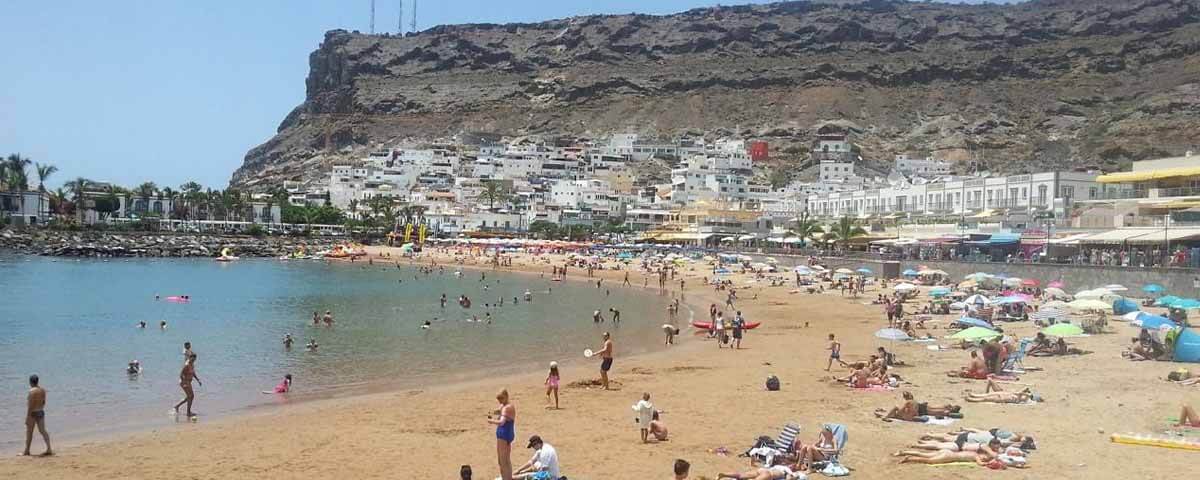 Tufia Beach
It is approximately twenty minutes away by car from Las Palmas. Discover a charming fishing village with its white and blue houses of typical Mediterranean atmosphere. It is located in the vicinity of Telde, where you will find a beach of volcanic sand that can be included among the best Gran Canaria beaches for its peculiar environment.
Güi-Güi Beach
We can't end with this small selection of best beaches of Gran Canaria without talking about this lonely virgin beach, hidden in the coastal environment at the west side of our territory and located within a nature reserve.
Its difficult access conditions through a steep rocky massif have helped to preserve the wild nature of this beach, which can only be accessed from the sea, or practicing a complicated descent on foot, to enjoy this type of paradisiacal beach in Gran Canaria.
Now that you have a list with the best Gran Canaria beaches, make your reservation now and come to visit us — you will spend some unforgettable days!