If you are a golf lover, you must visit one of the golf courses in Gran Canaria that we have selected for you. They gather some of the most exclusive conditions that you will hardly find in other golf courses of the world.
Come and hit the ball in the two best golf courses of Gran Canaria, both of them designed by elite professionals. As you advance from hole to hole enjoying an extraordinary landscape, you will be able to appreciate how the sea is integrated as the perfect backdrop.
Enjoy the most complete and comfortable facilities in which we offer everything you need to play golf and more, like drinks and snacks, restaurants with signature cuisine, spas, and many other services located in the surroundings of our unique accommodations integrated into our luxury hotel complexes.
On our golf courses in Gran Canaria, located in the south of the island, you can play golf during the whole year while you enjoy an extraordinary climate in which temperatures remain constant between 18 and 26 º C — this way, you just have to worry about playing.
Furthermore, if you are a beginner or you want to improve your game techniques, an exclusive selection of professional monitors are at your disposal to take classes on your own or with your family at our golf courses in Gran Canaria.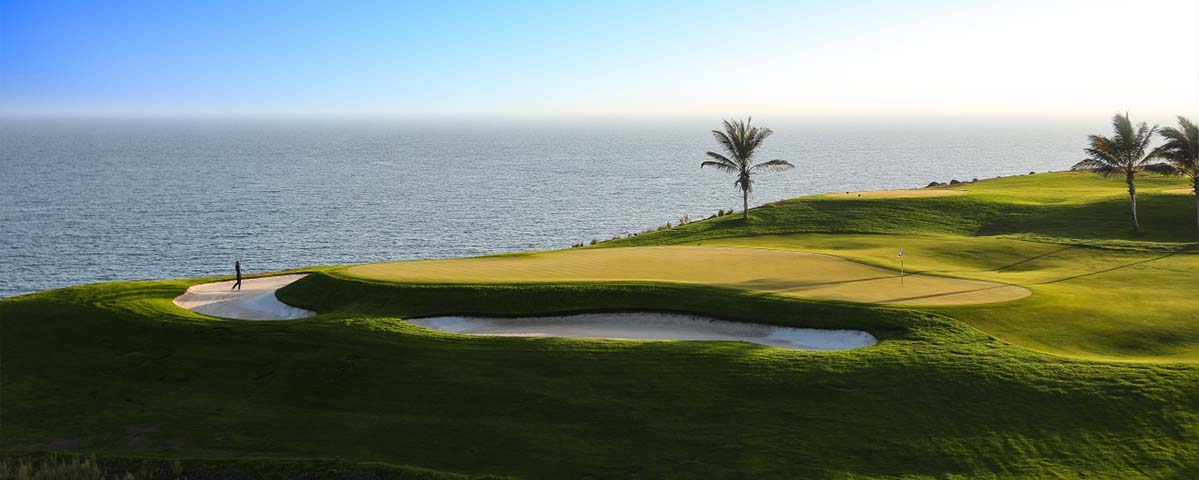 Where are the best golf courses in Gran Canaria?
The best golf courses in Gran Canaria are located in the southwestern part of the island. They are sheltered from atmospheric phenomena in one of the places of the world which counts on a greater number of hours of sun throughout the year.
This natural paradise is located on the coast of Maspalomas and Meloneras, between extraordinary beaches of fine sand and within the most exclusive environment of the island, surrounded by the most luxurious hotels and urbanizations.
The incomparable setting chosen by the designers of our golf courses in Gran Canaria — Ron Kirby and Mackenzie Ross — has more than four hundred hectares that make up the unique protected area of ​​the Maspalomas Dunes.
Lopesan Meloneras Golf
This property of Lopesan Hotel Group is one of the best golf courses in Gran Canaria. It was first opened in mid-2006, so that the following year is was used for the celebration of the Spanish PGA Championship. Golfers of the caliber of Rafa Cabrera and Alvaro Quiros have had the chance to enjoy the excellence and demands of the studied design of the Lopesan Meloneras Golf of Gran Canaria.
So if you want you can improve your drive, pitches and shots to the hole while you improve the handling of the clubs thanks to the 18 holes that this golf course in Gran Canaria has. You can do it along or counting on the help of an experienced instructor if that is what you want —it is up to you!
You will improve your game with our classes in this golf course in Gran Canaria. This is thanks to a set of technical instructions combined with the advice on strategies and the development of all the skills you need to achieve your goals.
The instructors of the Meloneras Golf Academy will guide you to practice your best shots and to obtain the best scores thanks to a system of simple trainings and an analysis of movements recorded in video that will be studied in a computer later on.
At your golf academy in Gran Canaria, you will find classes for players with a high handicap as well as for beginners, in addition to a wide range of equipment so that you can enjoy this golf course in Gran Canaria to the fullest.
Lopesan Meloneras Golf has carts with drinks and snacks to restore your energy or simply for refreshment while you practice your favorite sport. Once you have finished, you can buy a new putter or a nice pole that will be your best souvenir from this golf course in Gran Canaria.
Maspalomas Golf
Maspalomas Golf can also boast of being one of the best golf courses in Gran Canaria, since it has hosted the celebration of relevant international events in its 18 holes. Designed with long and wide streets, its flat and prolonged route also makes you feel a nice sea breeze.
Maspalomas Golf, which also belongs to the Lopesan Hotel Group, has a putting green, pitching green, driving range, driving range, car rental, clubs, car rental service, snack bar, and a prestigious golf school.
Among the great number of services offered by this fantastic golf course in Maspalomas, there are Pilates sessions and a GPS System service, highlighting in a very special way its extraordinary restaurant that you must try compulsory. This outstanding restaurant is open daily to both customers and visitors, and it offers its exquisite and varied menus and its exceptional signature cuisine.
Furthermore, you can buy all kinds of golf equipment in the store located within the Maspalomas Golf Club House — along with other objects that will remind you the fantastic time you spent in this amazing place.
The unique location of Maspalomas Golf confers it unique conditions for the celebration of all kinds of special events, which you can take the chance to celebrate while you are here. And to make your stay even more comfortable and unforgettable when you come to visit us and practice your favorite sport, make sure to make your reservation at one of the exclusive