If you are looking for the best golf courses in Gran Canaria because you are passionate about this sport, we offer you a list from the south to the north of the island that you cannot miss. In addition, you have the possibility of staying in hotels near them, so that you can fully dedicate yourself to this sport.
Golf courses in the south of Gran Canaria
If you want to travel to the south of the island, you should not miss these golf courses in Gran Canaria, many of which have been trodden by well-known personalities of this sport. This is also your chance to do some sightseeing in the Canary Islands.
Move to the southwest of Gran Canaria and discover the best golfing options, thanks to the very pleasant climate that this Spanish autonomous region offers you. One of the defining characteristics of these courses is their exclusivity. You can stay in a luxury hotel, where you can relax and get ready for your game or practice.
Lopesan Meloneras Golf
This golf course was opened in 2006 and quickly, due to its advantages, was chosen the following year to host the Spanish PGA Championship. This means that the great national figures of this sport have been playing here, for example in 2021, when the Gran Canaria Lopesan Open was held, an event integrated into the European Tour, bringing together some of the best players in the world.
The course offers 18 holes, as well as the possibility of having a specialised instructor at your disposal. If you wish, there are classes available to improve your skills and, incidentally, to learn the strategies necessary to become a professional.
At the end of your preparation, you will be able to buy a new putter or a polo shirt from this golf club, so that you can boast about having passed through such a good course.
Maspalomas Golf
This immense golf course has been lucky enough to host international tournaments. A visit to the golf school is a privilege not to be missed. This complex is home to a large number of services, allowing you to relax between lessons and practice.
You can get all the necessary items for the practice of this sport, even if you are in practice sessions. Located in Maspalomas, the unmistakable sea breeze will accompany you on each of the 18 holes you play. In your free time and to keep in shape, Pilates classes are available.
Anfi Tauro Golf
Tauro is a valley that allows you to get into the nature of the island. With its unique golf course, you will have a unique experience. It offers you 18 holes, as well as a large number of services, among which you will find a restaurant, the golf club, where you can receive exclusive classes and many other activities.
The builder of this marvel, which so closely resembles the atmosphere of Arizona, Robert von Hagge, who has made a name for himself on many other golf courses around the world, stands out.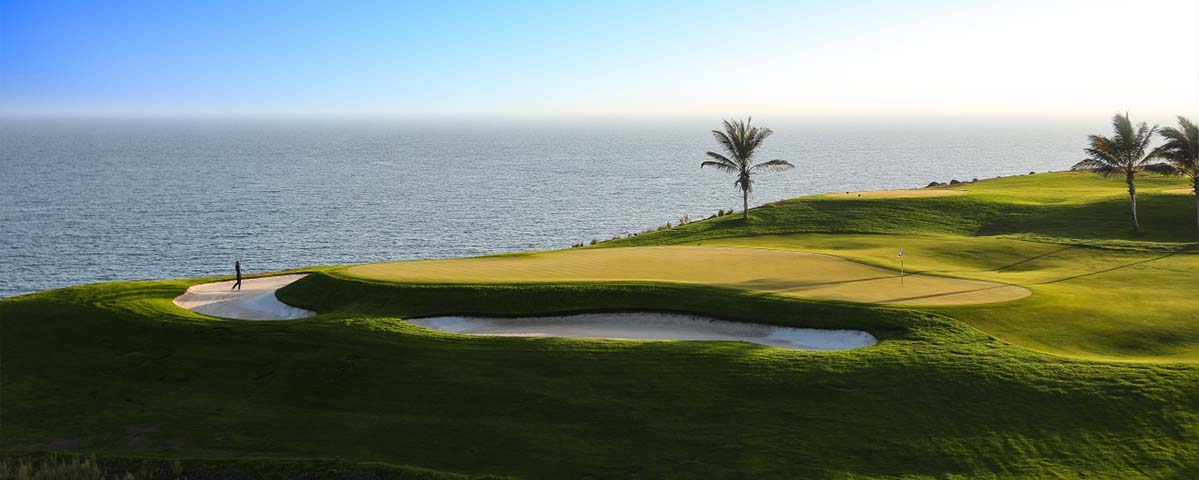 Golf courses in the north of Gran Canaria
Just like the south, the north of Gran Canaria has important golf courses that you should not miss. History awaits you with one of the oldest courses in the country, dating back to the 19th century. Among incredible landscapes, which you will find anywhere on the island, practising this sport is a real luxury.
Real Club de Golf de Las Palmas
Real Club de Golf de Las Palmas is the oldest golf course in the country. It was completed in 1891, and its creator was the English architect Mackenzie Ross. If you are staying in Las Palmas, it will only take you 15 minutes to get to the club.
It stands out for its geographical location, on the edge of the caldera de Bandama, a protected natural area. It has 18 holes and a clubhouse with stupendous views of the whole golf course. With all the services you need for your rest, this is another option that every golf lover should not miss.
Las Palmeras Golf
Las Palmeras Golf has been able to make a difference. Its urban construction makes it unique in the whole country. It has the Pitch & Putt rating of the Royal Spanish Golf Federation and 18 holes, which makes it a professional course. It also has room for beginners and, of course, all the facilities to visit it without having to travel far from the city.
It offers two courses. On the one hand, one with 9 holes and an atmosphere that will transport you to British courses due to its enormous similarity. On the other hand, there is also another 9-hole course, with the 15th hole standing out for its island green.
Staying close to the best golf courses in Gran Canaria
You are fortunate to be able to stay near these golf courses, the best in Gran Canaria. The Lopesan hotels offer you all the services and a high quality that you will quickly notice by their comfort.
Lopesan Hotels in Meloneras
We invite you to explore the south of Gran Canaria in one of our hotels in Meloneras, perfect to visit as a couple, with friends or family. Located near the Maspalomas Dunes Nature Reserve, they attract numerous tourists every year in search of exclusivity, comfort and top quality services. In addition, their proximity to the Pasito Blanco marina and the emblematic Maspalomas Lighthouse make them a place full of fun and entertainment.
The Lopesan Hotel Group hotels are a perfect combination of luxury and comfort. If you are looking for five-star accommodation that evokes the African continent in its design, you can book accommodation at the Lopesan Baobab Resort. On the other hand, if you prefer a hotel of elegance, you can opt for the Lopesan Costa Meloneras Resort & Spa.  Finally, if you want a more luxurious experience and proximity to the sea, both Lopesan Villa del Conde Resort & Thalasso and Hotel Faro, a Lopesan Collection Hotel, both five-star, may be an ideal choice for you.
Don't miss the chance to play golf in Gran Canaria on the best courses on the island. Get to know the oldest in the country and sign up for classes to improve your touch. The experience is unforgettable.